Description
2 in 1 hifu vaginal tightening face lift and body shaping beauty machine
1. Working principle for Vaginal:
High-intensity focused ultrasound energy (HIFU) gather with a unique high-energy focused ultra-ultrasound to reach the vaginal SMAS layer, lifting the SMAS layer, and comprehensively solve the vaginal relaxation problem. It accurately locates the ultrasonic energy in the submucosal 4.5mm layer. The muscle layer of SMAS is stretched to achieve the best effect of vaginal contraction. It acts on the collagen layer of 3mm under the skin, regenerating the collagen, achieving the elasticity of the skin, and the energy sweeping across the epidermis. All of them do not worry about the mucosal layer injury, and do not worry about the infection caused by the mucosal layer injury!
The instrument handle penetrates the vagina through the operator and evenly works 54-216 lines (about 1350-5400 points) in the vaginal SMAS layer to achieve the best effect of contracting the vagina.
2. Working principle for Face :
The hifu machine can be done firm skin while pulling the muscle layer, thin face up to the progressive effect. What is SMAS? Lift operation at present by plastic surgeons do operation layer, the SMAS layer, which is (superficial musculoaponeurotic system, referred to as the fascia (fascia) SMAS) layer on the skin depth is about 4.5mm, subcutaneous fat and muscle.
Working principle for body:
Apply high intensity focused ultrasound, generate focused energy and go deeoer into the cellulite to break cellulite. it is an invasive, impressive and long- last effective tratement to reduce fat, especially for abdomen and thigh. 
Instrument technology advantages:
1. By automatically controlling the rotation angle, it is ensured that the multiple shotting is very precise. The corresponding parameters can be adjusted according to the depth of the vagina, which greatly shortens the operation time, makes the energy point of the vaginal muscle more uniform, and the treatment effect is better.
2. Using advanced high-tech technology, according to the internal conditions of the vagina, equipped with two different depth treatment cartridges(3.0 and 4.5mm), the precise effect of different depths, when treated, can pass over SMAS layer, 100% without any damage, and the depth and treatment of the treatment cartridge.The matching cartridge ensure that the customer is painless and comfortable.
3. The thermal effect of dermal collagen and collagen fibers is accompanied by thermal stimulation of the fat layer and fascia layer (SMAS).
4. Easy operation
5. After treatment, the tightening effect can be seen Immediately .
6. It can be recovered after one week of treatment, without affecting normal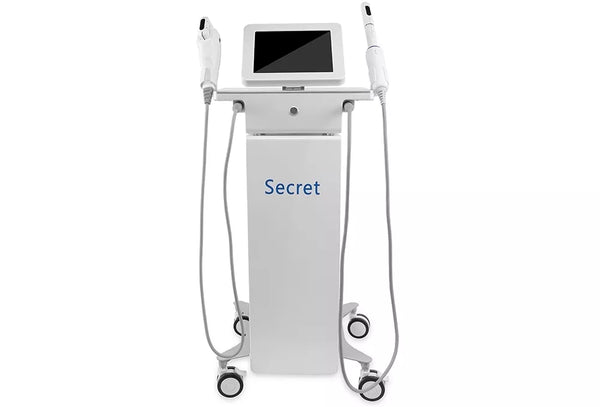 Item

2 in 1 HIFU for Face/Body Vaginal Tightening machine

Screen

15.4 inch touch screen

Facial Cartridge

DS-1.5/3.0/4.5MM

Body Cartridge

DS-8.0/13.0MM

Vaginal cartridge

DS-3.0/4.5MM

Frequency

 4 /7/10 Mhz

Screen feature

Foldable

Heat temperature

40-65℃

Length

5-25mm

Clearance

1.0-5.0mm

1.0-5.0mm

Energy output

0.1-2J

Shot

10000shots /cartridge

Power

200W

Voltage

110-220V

Packing size

53*41*40cm

G.W Weight

10.5KGS