Description
360 Magneto-Optical Portable Painless Max Ipl Tattoo Removal Picosecond Diode Laser Hair Removal Machine
Product Name

2 in 1 OPT laser hair/tattoo removal machine

Feature

Hair Removal, Skin Rejuvenation, Anti-Wrinkle, Freckle Removing, Acne Treatment, Reddish Blood, Wash Tattoo, Wash The Birthmark

Output Power

2000W

Handles

1X OPT SHR IPL
1X Laser Pico

Treatment Handle

2 handles

Cooling system

Water cooling + semi-conductor cooling + air cooling

Voltage

110V/220V 60Hz/50Hz

Display

10 inch Touch Screen

Laser Pico Function Parameter

Wavelength

532nm 1064nm 1320nm (Optional)


Spectrum Area

430-1200nm

Energy

10-2000J/cm2(adjustable)

Frequency


1~10Hz(adjustable)

IPL Function Parameter

Energy

1-50J/cm2(adjustable)


Pulse Width

0.5~10ms(adjustable)

Frequency

1~10Hz(adjustable)

Spot Size


12x30mm(Optional)

Shot

700 000 Shots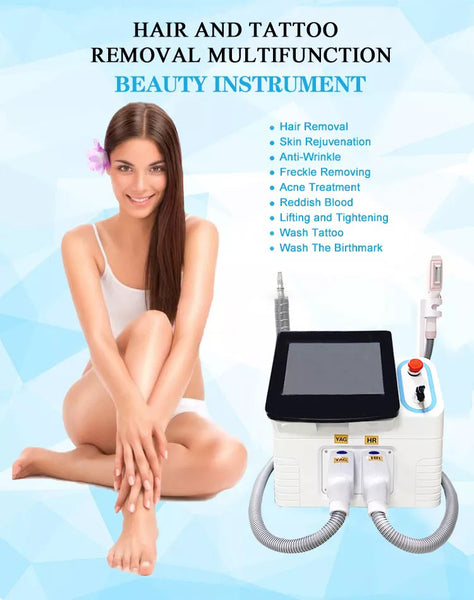 Applications
OPT :

1.Remove unwanted hair in different depths and thickness;
2.Rejuvenate Skin, contract the pores and remove and black head;
3.Effectively remove all kinds of pigment, such as a freckle, deep-seated speckle, cuticular speckle, corium speckle, age pigment, chloasma;
4.Remove Facial vascular lesions(Telangiectasis or pathological capillary vessel);
5.Remove acne on face and body effectively;
6.Dispel wrinkle,tighten skin and face lifting.
Laser Pico : 1.Pigment dispelling. 2.Tattoo removal: can remove black, blue, brown and red tattoo pigments on eyebrow, eyeline , lipline and other parts of the body. 3.Skin rejuvenation:laser facial, large pore reduction,face whitening.
4.Eliminate the age pigment, spot, birthmark, and pigment changes etc.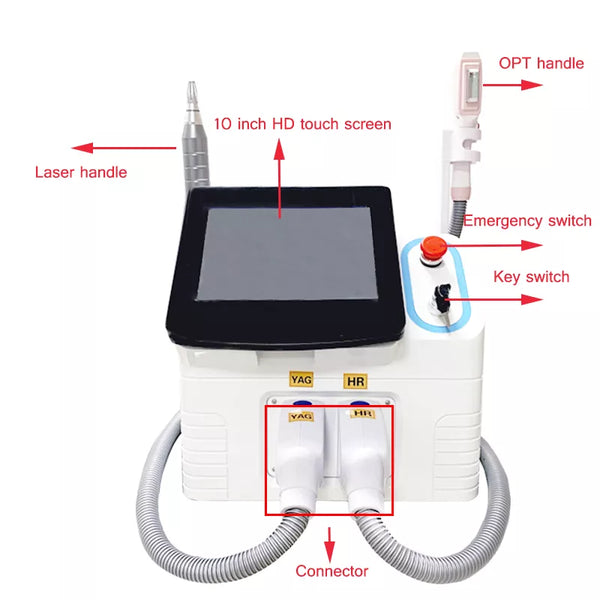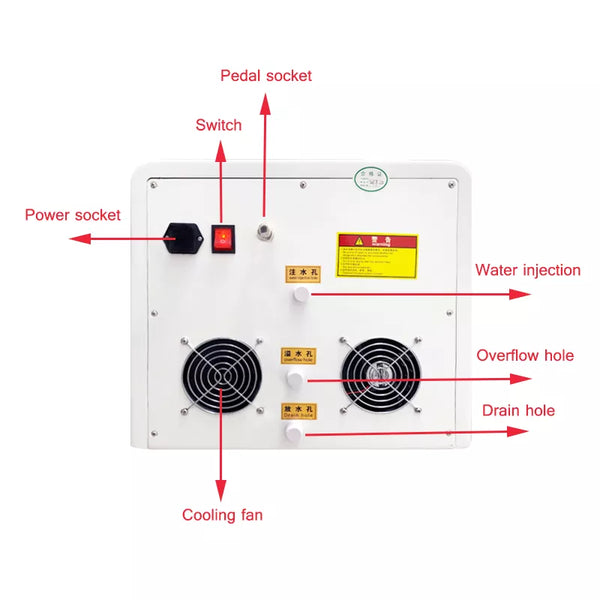 Treatment Advantage
OPT : 1. Different wavelength of filters equipped, make the treatment more targeted and accurate.
2. Modularized assembling, strong stability.
3. Fully intelligent detecting system, avoid device damage caused by improper handling.
4. 10 inch TFT True Color Screen, functionalized designing menu, visual and easy handling.
5. Bran-new cooling system, super water cooling supplying for continuous working.
6. Artful lines designing, manual mechanic accordant treatment handle, make the system Hi-tech and fashionable.
7.Super cooling system, secures the safety and comfort of the treatment and the stability of long time continuous working.
Laser Pico :

1.Safe and without wound;Short treatment period with outstanding effect; 2.Remove pigmentation without side effects or scar; 3.Special designed cooling system ensures constantly working; 4.User friendly interface with LCD display; Easy to operate.
Working Theory:
OPT :
Applying the technique of IPL and Bi-polar Radio Frequency, acts on the entire skin corium and connective tissue, stimulates the collagens of different depth to realign and grow, then gets operation effect. Bio-polar RF release energy at the same time, with the selective absorption for the skin to light energy, various pathological tissues of corium and epidermis creates Photothermolysis effect. Since light energy is far below conventional IPL, the pigment tissue and vascular pathological tissue of the corium and epidermis would absorb more energy without injuring the epidermis, and then remove these pathological tissues better and get the effect. The IPL Machine IPL (Intense Pulsed Light) is a kind of light with high energy and broad wavelength, within the range from 430nm to 1200nm. According to the principle of IPL photo rejuvenation technology, intense pulsed light with
broad spectrum affects pigmentations,broken capillary vessels and hair follicles. Photothermic and photochemical action will be triggered by the radiation of IPL,pigments is shattered and eliminated out of body by metabolism. Intense pulsed light (IPL) is a technology used by cosmetic and medical practitioners to perform various skin treatments for aesthetic and therapeutic purposes, including hair removal, photorejuvenation (e.g. the treatment of skin pigmentation, sun damage, and thread veins) as well as to alleviate dermatologic diseases such as acne. IPL uses a high-powered, hand-held, computer-controlled flashgun to deliver an intense, visible, broad-spectrum pulse of light, generally in the visible spectral range of 400 to 1200 nm. Various cutoff filters are commonly used to selectively filter out lower wavelengths, especially potentially damaging ultra violet light. The resulting light has a spectral range that targets specific structures and chromophores (e.g. melanin in hair, or oxyhemoglobin in blood vessels) that are heated to destruction and reabsorbed by the body.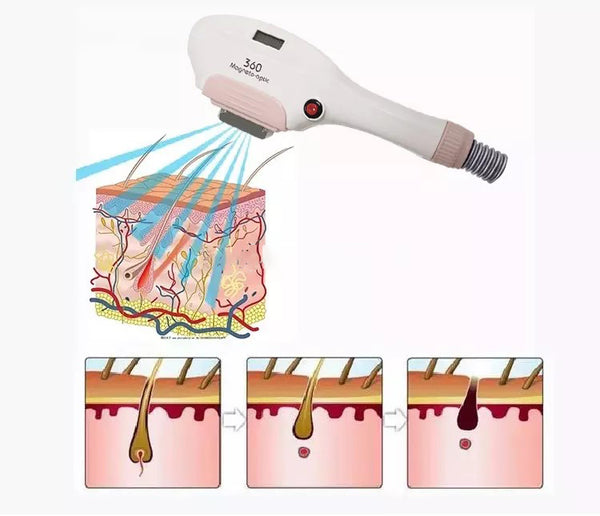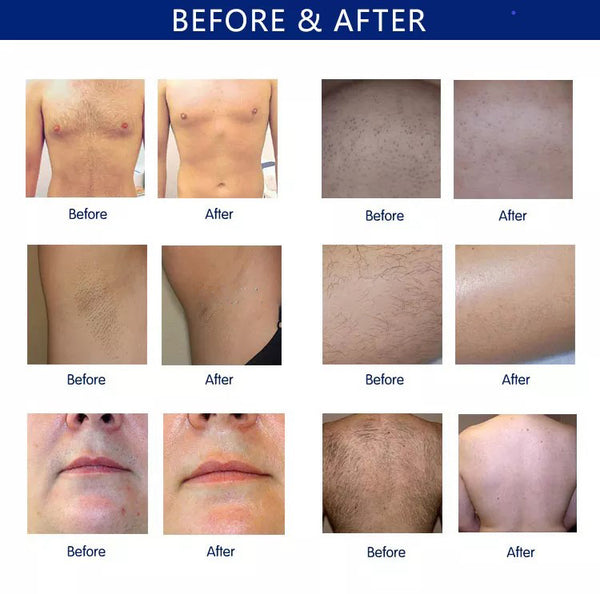 Laser Pico :
The energy of Q-Switched ND:YAG Laser can be absorbed by the blue and black melanin.Utilizes the explosive effect of the Picoseond laser, which permeates through the epidermis into the dermis containing the pigment mass. The laser pulses in nanosecond, super high energy.The melanin will be fragmented so small that they can be metabolized by the lymphatic system or be egested out of the body.Thus the tattoo or other pigmentations will be removed without injury to normal tissue.The treatment is safe and convenient without downtime or side effects.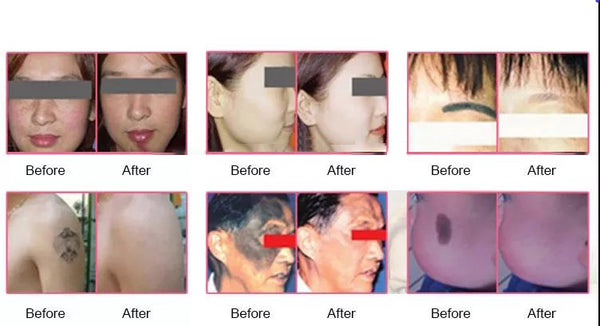 The items along with the machine are
1 packing box, 1 host,
1 hair removal handle,  1 pico tattoo removal handle(532nm, 1064nm, 1320nm),
1 water injection tool, 1 operator glasses, 1 patient glasses, 1 power cord, 2 keys,pedal switch .