Description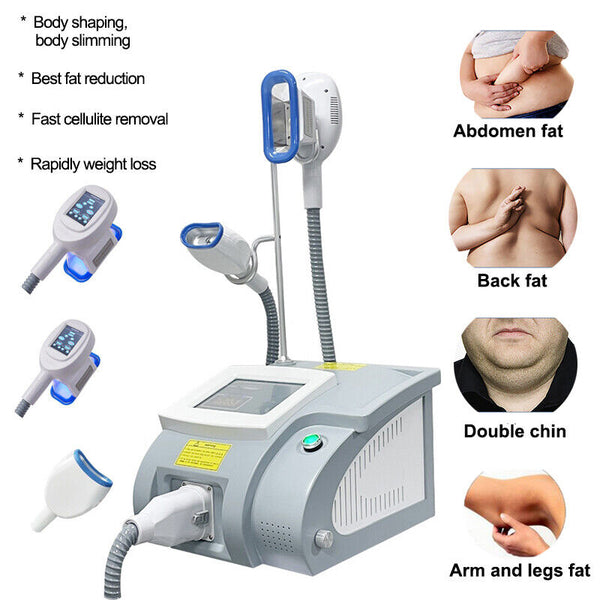 Principle:
Cryolipolysis is a new non-invasive way to gently and effectively reduce fat in targeted areas of the body.
As triglyceride in fats will be converted into solid in particular low temperatures, it uses advanced cooling technology to selectively target fat bulges and eliminate fat cells through a gradual process that does not harm the surrounding tissues, reduce unwanted fat.
A number of methods have been attempted for lipolysis including the use of laser, ultrasound, and radiofrequency electric current, since cryo was developed appling cooling to tissue, was approved as the most effective way to fat reduction.
This revolutionary new idea of dissolving fat, which is approved as an important technology progress in fat reduction since it is put into use.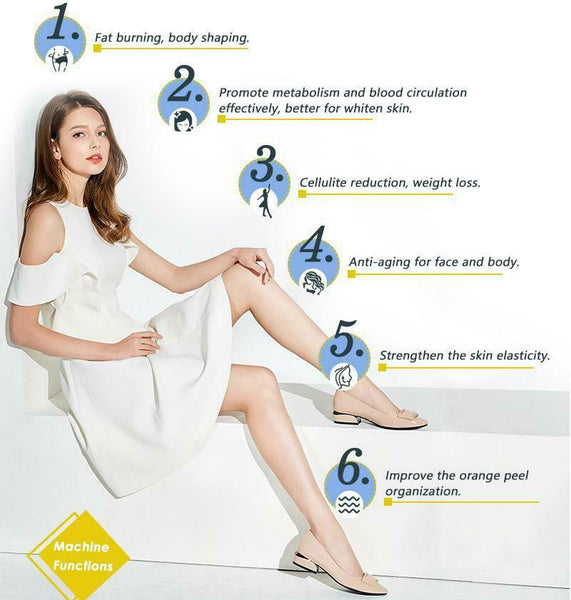 Functions:
1.Body shaping, fat dissolving, repel the cellulite.
2.Lymphatic drainage, promoting metabolism & blood circulation.
3.Decrease the excessive water and prevent the fat from accumulation.
4.Tightening skin, strengthen skin elasticity, skin lift.
5.Clear belly wrinkles, especially the stretch marks.
6.Complementing the collagen , skin rejuvenation.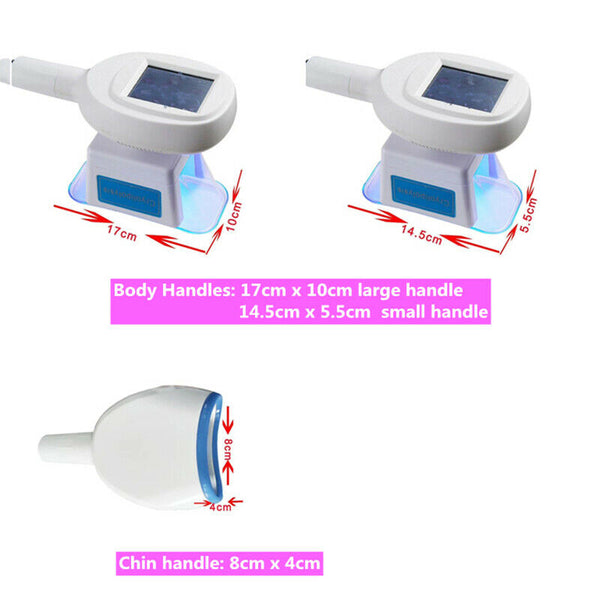 Feature:
1. technologies —— fat freezing + vacuum + LED blue light. 
2. handles optional —— different sizes for treatment on different body parts. 
3. Minimum -14℃ freezing —— -14℃ to 0℃ adjustable, -5℃ recommended. 
4. Localized fat reducing —— on waist, abdomen, arms, thighs, etc. 
5. Vacuum massage —— for lymphatic detox and promoting blood circulation. 
6. Skin rejuvenation —— LED blue light calms and rejuvenates skin. 
7. Dual screens —— host control panel + handle operation screen. 
8. Adjustable suction —— for individual needs and tolerance. 
9. Safe and painless —— non-invasive, no side effects.
Paramenters:
Power: 400W
Treatment Cryo Handle:17x10cm/14x5.5cm/8x4cm 
Voltage:110V/220V 50/60Hz
Cryo Temperature:-15℃~0℃
Main Machine Screen:8 inch FTF touch screen
Cryo Handle Display:3.5 inch FTF touch screen handle
Vacuum Pressure:0~86Kpa
3 x Handles size (selective):
Big cryo handle size 17*10cm standard
Medium handle size 14*5.5cm( selective)
Small chin handle size 8*4cm(selective)
Package included:
1 x Machine
1/2/3 x Handles(selective)