Description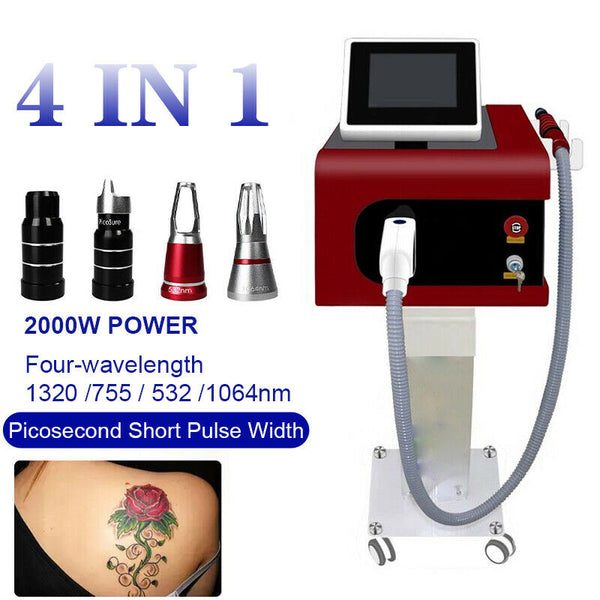 Item Details
State of health:
the main purpose:Pore Remover, Skin Tightening, Whitening
Skin Type: All skin types
Department: Unisex
Type: picosecond
Laser Type: Yag Laser
Color:Red
MPN: Not applicable
Features: LCD screen, skin rejuvenation, dark circles, tattoo removal, acne treatment
Country of manufacture: China
UPC: Not applicable
Note: 
1. Not include the trolly.
2. Before this machine is worked, it need to be added water. 
Theory  of picosecond laser machine:
The Picosecond Laser uses ultra-short p
ulses (one trillionth of a second in length) to hit the melanin with a great pressure, the melanin shatters into tiny dust-like particles. Because the particles are so small, they are more readily absorbed and eliminated by the body. This can mean better clearance of the melanin and less treatments overall.
Picosecond Laser is a quick and easy non-surgical, non-invasive laser skin treatment for the body including chest or decollete, face, hands, legs, and more.
Treatment area:
Tattoo Removal (All color tattoo, eyeline and lipline removal)
Epidermis and dermis pigment(Removal of Pigmented lesions, coffee spot  ,Senile plaques, freckle, sunburn spot and chloasma)
Acne Scar Treatment ,Nevus of Ota, blue naevus, black nevus
Skin whitening and wrinkle removal etc
Freckle removal
Probe of 1064nm is suitable for blue, black and cyan pigment
Probe of 532nm is suitable for red, green, coffee and brown
Probe of 755nm is suitable for blue green,etc
Probe of 1320nm is suitable for skin whitening
Advantages:
1. Easy to operation, 1064nm and 532nm,755nm can switch automoticly by press different button on the screen.
2. Big power supply, so the machine is powerful.
3. Can adjust the spot size when switch the head.
4. Big water tank, so the cooling system is very good.
5. Metal shell, safe during the transport.
Package include:

 

1 x Machine + Accessories (Not include the trolly)