Description
4D HIFU Machine Face Lifting Body Slimming High Intensity Focused Ultrasound Machine
Notice:The price only includes the machine. The trolley is not included.
2 Cartridges:  3.0mm, 4.5mm
5 Cartridges:  1.5mm, 3.0mm,  4.5mm, 8.0mm, 13.0mm
8 Cartridges:  1.5mm, 3.0mm,  4.5mm, 6.0mm, 8.0mm,10.0mm, 13.0mm, 16.0mm
To meet buyer's requirement, we accept any cartridges mix, please tell us what depths you want after place an order,thank you.
(Its free to put your business logo on the screen display.)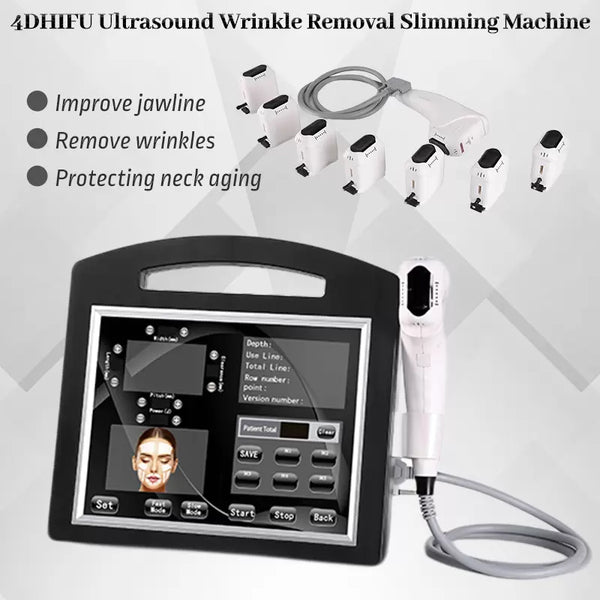 Working Principle
4D HIFU uses the power of high intensity focused ultrasound to safely lift and tighten skin.
High intensity focused ultrasound is a form of energy that is significantly different than light,such as IPL and Lasers or Electrical (Radio-Frequency) energy. HIFU, protects the skin surface,whilst precisely penetrating at deeper depths and higher temperatures than Radio Frequency,for example, treating beyond the Dermis and Foundation layers, where structural weakening starts.
Tissue at the target point is heated to 65°C, Thermal Heat is created with the skin tissue creating both spaced 'wounds' and cellular friction - which in turn promotes healing, immediately contracts collagen and stimulates a rapid production. Over the next 90-180 days, the wound healing response stimulates long-term tissue and leads to further lifting and tightening, with results that can last years.
4D HIFU also helps to improve the tone and all the features of your face such as your eyes, cheeks, mouth, chin and skin,with the benefit of being able to maintain facial expression.Excellent for post surgical face lift to maintain the lift and treat blood stasis, scarring, and numbness.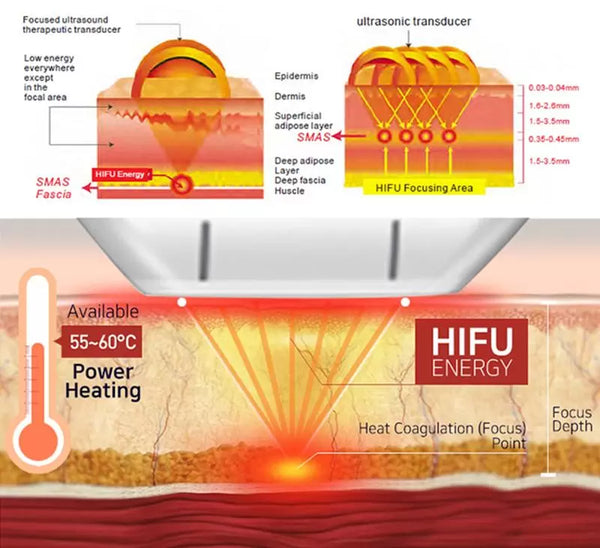 Technology Advantages

1.Two working modes: fast mode or slow mode can be switched.
2. A maximum of 12 lines can be used in a single shot, and the maximum energy area is 10mm wide. the corresponding parameters can be adjusted according to the size of the skin area,which will maximumly reduce the hifu treatment time,make the energy point effects on the skin is more uniform, and the curative effect is better.
3. Using the most advanced high-tech technology, it is equipped with several hifu cartridges according to the facial skin condition,which accurately affects different depths of skin,and the energy is slightly over the epidermis during treatment, and 100% without any damage.At the same time, the depth of the skin treated by hifu cartridges is consistent with the set value, ensuring the customer's painless and comfortable.
4. In addition to the thermal effect on dermal collagen and collagen fiber, it also has thermal stimulation on the fat layer and fascia layer (SMAS), and the therapeutic effect is far better than that of Thermage.
5. We can make 20000 shots, very cost efficient.
6. The effect of tightening and shaping can be seen immediately after treatment, which can last for at least 18-24 months at a time, and achieve negative growth for skin age once a year.
7. Makeup immediately after treatment,  do not affect normal life and work.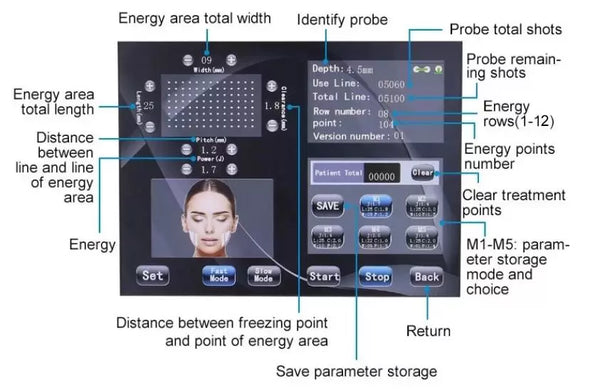 Eight Kind Of Cartridege
1.5mm: For forhead, thin areas  
3.0mm: For cheek, jaw, neck, chin  
4.5mm: For cheek, jaw, neck, chin  
6.0mm: For breast, arm, back, Abdominal
8.0mm: For breast, arm, back, Abdominal
10.0mm: For Abdominal, thigh, arm, back
13.0mm: For Abdominal, thigh, arm, back
16.0mm: For Abdominal, thigh, arm, back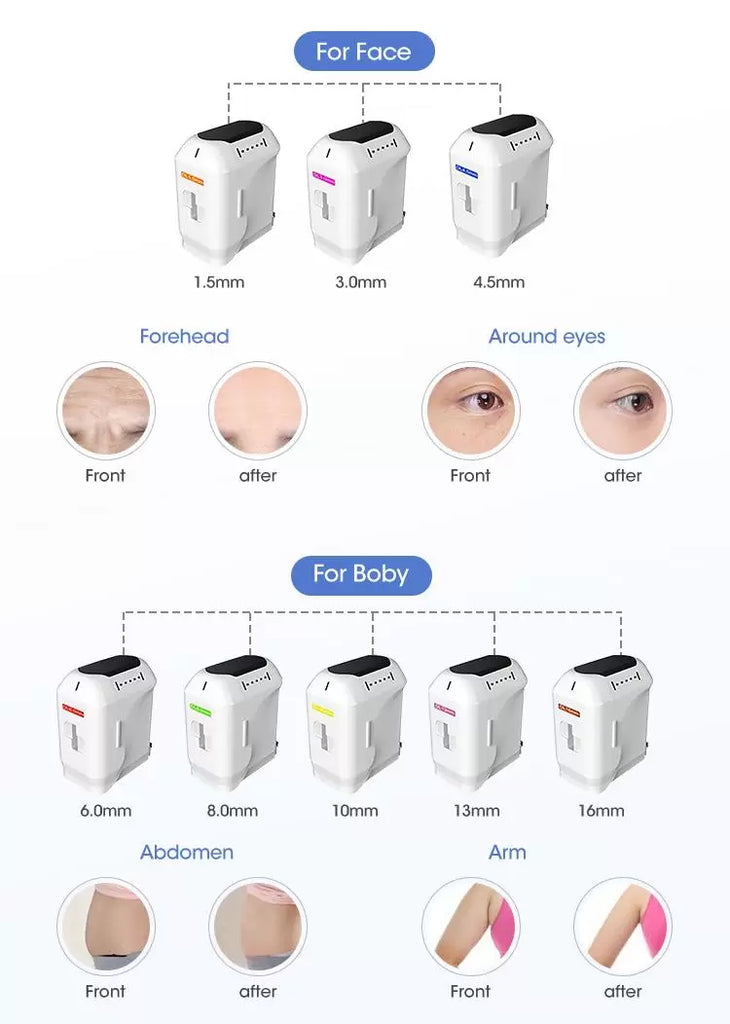 4D HIFU Applications
1. Remove wrinkles on around forehead, eyes, mouth, etc.
2. Lift and tighten both cheeks skin.
3. Improve skin elasticity and shaping contour.
4. Improve jaw line, reducing "marionette lines"
5. Tighten the skin tissue on forehead, lifting the eyebrows lines.
6. Improve skin complexion, making the skin delicate and bright
7. Match with injecting beauty like Hyaluronic acid, collagen, to resolve more aging problem
8. Remove neck wrinkles, protecting neck aging.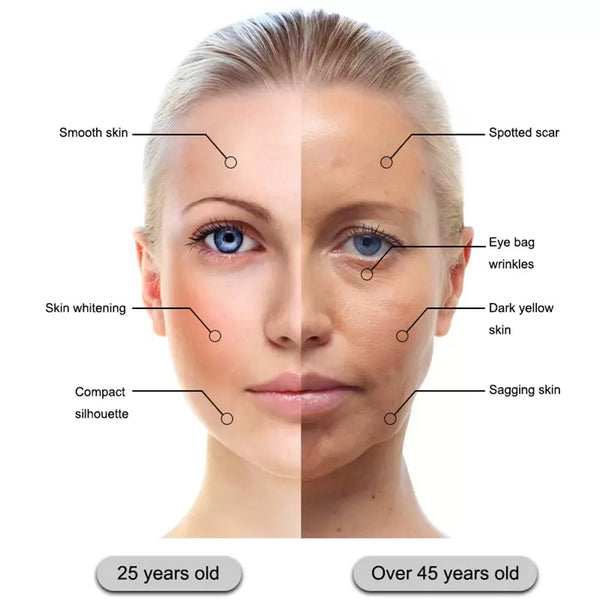 Before And After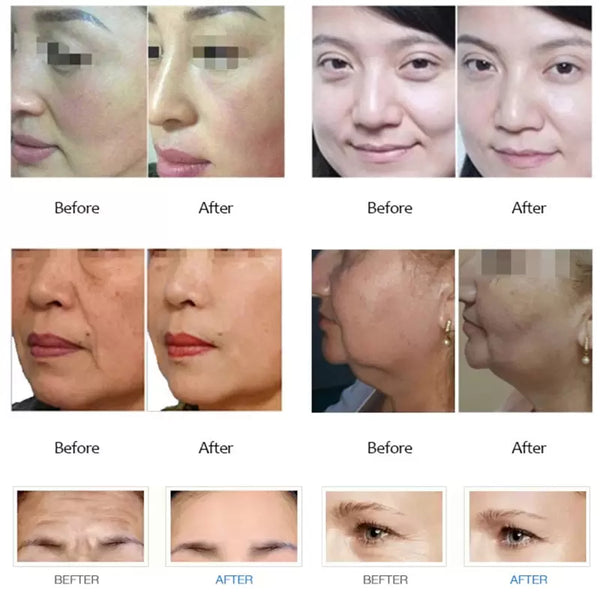 Product Display