Description
6 in 1 Oxygen jet peel Machine Hydra dermabrasion BIO RF Cold Hammer No Needle Mesotherapy Spa Water Facial Cleaner Hydro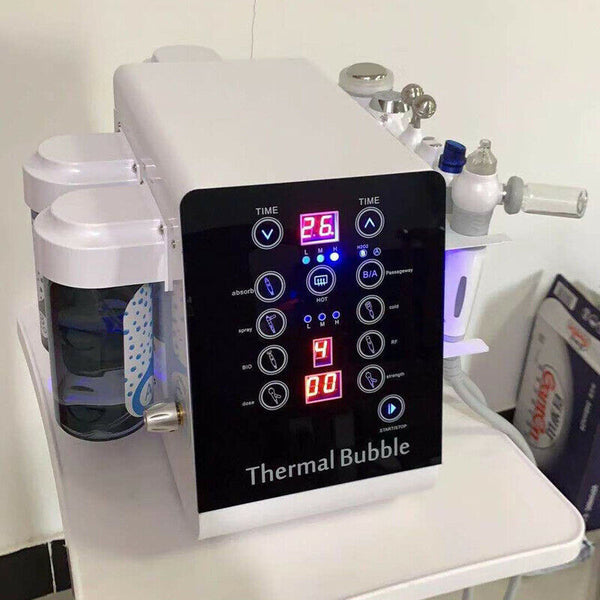 Application:
1.Purifies the skin, removes excess thick keratin, purifies pores, breaks down oil, smoothes and tightens pores, and restores smooth, smooth skin.
2.Dark complexion, tiredness, paleness, edema. Oxygen-promoting skin accelerates oxygen absorption and improves dullness.
3.Relaxation, lack of water, wrinkles, and dryness. Enhances firming, tightens loose skin, deeply replenishes moisture, stimulates collagen production, renews skin, stimulates cell inner membrane, accelerates cell division and regeneration, and restores youthful skin condition.
Handle Features and Advantages
1.H2O2 Thermal Dermabrasion:Remove black head,remove skin grease dirt,improve oily skin,skin deep cleansing,increase skin elasticity,improve complexion.It can make warm water,which makes cleaning more powerful.The water temperature can be adjusted according to your needs. Use it in winter, you no longer feel cold.
2.Cold Hammer:Calm skin.Shrink skin pores.Eliminate redness and sensitivity
3.Oxygen Spray Gun:Liquid deep jet.Skin Moisturizing.Skin rejuvenation.Inject nutrient to skin fastly.Increase cell activity.
4.Nano Mesotherapy Injection:The nutrients are infiltrated into the basal layer of the skin in nanometer form. Promote nutrient absorption. Makes the skin shiny and hydrated.
5.RF:Combined with plasma technology. Clean up acne. Anti-inflammatory sterilization. Repair acne marks.Wrinkle removal.Skin tightening.
6.BIO:Slightly irritating skin.Promote facial blood circulation.Massage the face. Shape the v face. Eliminate edema.