Description
7D Hifu Machine Wrinkle Removal Body Face Lifting Skin Tightening 7 Cartridges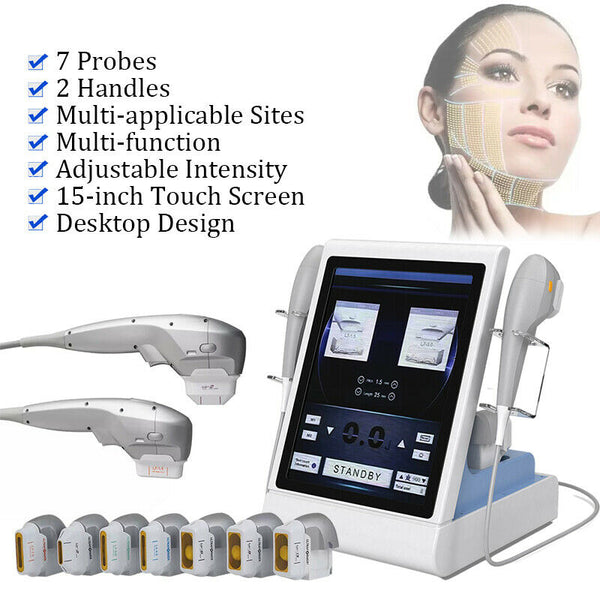 What is 7d HIFU?

The 7D HIFU is a high intensity focused ultrasound treatment designed to help reverse the signs of aging, leaving you with a more youthful appearance. Unlike other skin tightening treatment on the market, the HIFU treatment is a completely non-invasive lifting and contouring device that provide a customised treatment procedure for the entire face, neck and body.
The HIFU principle is to focus high-energy ultrasound to a specific location and convert the coustic energy into heat .The situation is like using a magnifying glass to focus light to one point, except that the focused ultrasound penetrates deep into the skin (SMAS layer) without being blocked by the epidermis and dermis.
With precise control, the ultrasound will only focus at specific locations to produce precise,small hot spots that will not be affected elsewhere.
Functions:

The latest 7D HIFU has a total of 7 cartridges, which are fully carved and anti-aging.
1. Facial cartridges 1.5mm, 3.0mm, 4.5mm, contour shaping, lifting and tightening, dilution and removal of frown lines, crow's feet, legal lines, double chin, neck lines
2. Body cartridges, 6mm, 9mm, 13mm, reducing fat and shaping body, removing orange peel tissue&cellulite, tightening and lifting body skin, chest and buttocks
3. The 2.0mm cartridges has a significant effect on stretch marks, growth marks and obesity marks
Advantage:

Using dual-core system, fast speed, small dosing, precise positioning of the treatment layer without pain, compared with other equipment, comfortable and effective anti-aging projects, in line with market demand
1)Suspended lifting is firm, painless and non-invasive, immediate results
2)Equipped with seven depth probes, layered anti-aging
3)Three-dimensional improvement of skin age, skin texture, and complexion
Specification:
Type: 7D HIFU focused ultrasound
Treatment area: Face, Body, Eyes, Neck/throat, Lips, Legs/Arms, Virgina
Frequency: 7MHz 4MHz 2Mhz
Treatment Cartridge:
Face: 1.5mm, 2.0mn, 3.0mm, 4.5mm; 20000shots each
Body: ; 6mm, 9mm, and 13mm; 20000shots each
Dot distance: 1-2mm(Set unit 0.1mm)
Package included: 

1 x Machine
7 x Cartridges