Description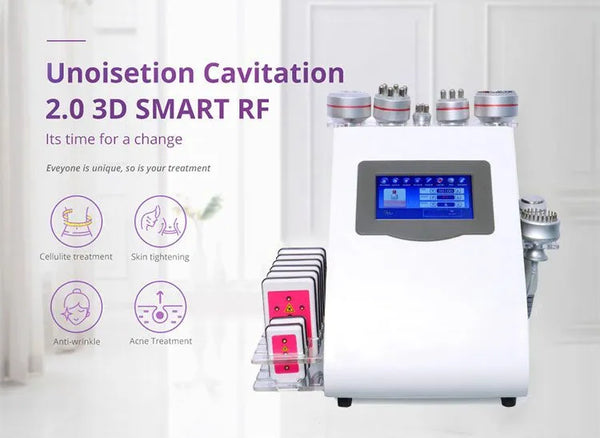 Featuring a 7 inch touch screen, Unoisetion handles & chic colorful design, it has multiple functions, which work together to help you to dissolve fat, remove cellulite, rejuvenate your skin, and achieve the sexy shape you desire.  All this without any invasive surgery.
Treatment Benefits, in Summary:

Most advanced technology:  Vacuum + Cavitation + RF + Lipolaser + Cold Hammer + Microcurrent + Photon
40k ultrasonic cavitation system dissolves fat, selectively 

targeting fatty tissue to achieve the fastest treatment effect

Highly advanced RF technology compared to most other devices on the market, with different specifically targeted treatments for body, face, eye and other smaller areas
Improves lymphatic drainage
Firms skin texture with lifting effect on various body parts such as

 arms, legs, thighs, buttocks, waist, back, and abdominal muscles

Enhances skin elasticity all over the body
Reduces orange peel-like fatty tissues
Does not cause the phenomenon of un-even skin
Helps you achieve a better body shape without the possibility of gaining back weight
Completely non-invasive, so there is no down time and does not interfere with daily life
Provides soothing relief from pain (such as joint pain or sciatica) stress and fatigue by promoting regular mechanical aerobic exercise of skin tissue

Promotes cell metabolism with the effect of increased production of collagen 

and elastic fibers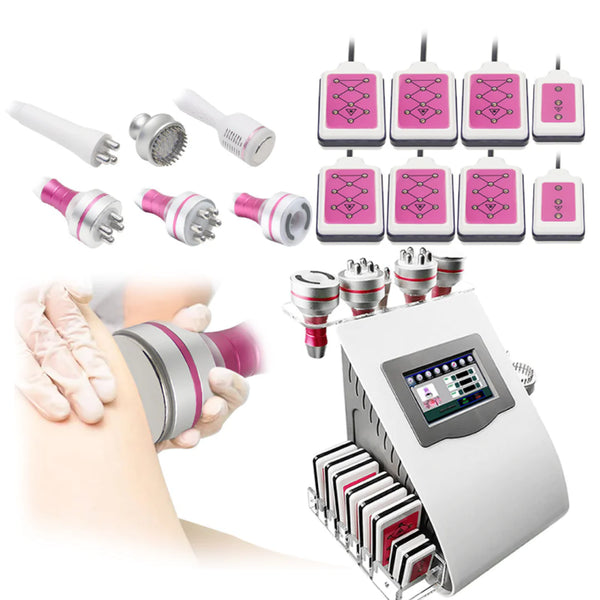 Important Recommendation and Operational Tips:

Always cleanse the skin and remove any metal jewelry prior to treatment.
It is necessary to apply gel or essence as the medium on the areas to be treated.  Do not use essential oil as the medium.
When beginning to use, start with low-energy.  It's advisable to test for the proper energy level on the back of the clients' hands before using it on their body.

During operation, start pulling only after negative pressure head is attached to skin. 
Always turn off the instrument probe when it is not in use.
When using the Three Pole RF head, apply for only 15-20 minutes with a mainly the spiral movement on body.
Avoid staying too long in one place. Avoid using on bony areas
After using the machine continuously for 1 hour, please let the machine rest for about 10 ~15 minutes.
There will be some cases when there appears tinnitus when using the burst fat probe.  This phenomenon is a normal.
Do not use disinfection products to clean probes, it is recommended to use a wet towel or cotton;
It is helpful and in most cases necessary to refer to the detailed instructions manual, which is provided with your machine. 
Notice : This product is not intended to diagnose, mitigate, treat, cure or prevent any disease
Specifications:
Product weight: about 16 kg
Packing size: 45x45x37cm
Voltage: 110V 220V 50-60HZ

Model No.: 609S
Included:

1 x Lipo Cavitation Machine, Main Unit
1 x Multipolar RF Head for Body
1 x 40KHz Cavitation Head
1 x Vacuum Biploar RF Head
1 x Three Polar RF Head for Face and Eyes
1 x Quadrupole RF Head for Face and Body
1 x Ice Hammer Head
1 x Photo Rejuvenation Head
8 x Positioning Plates
1 x Power cord
1 x Instructions Manual