Description
Portable skin analyzer face problem analysis diagnose beauty machine m8000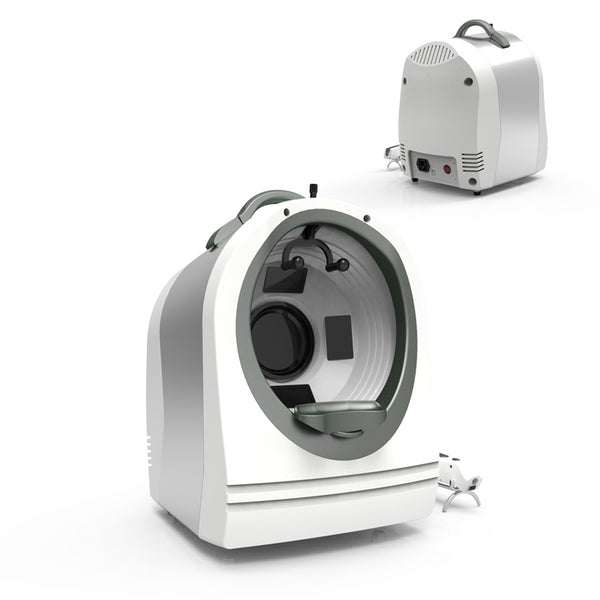 Skin analyser system:



1. Skin Irregularities: Skin irregularities that appear on the surface of the skin – freckles, visible sun damage, capillaries or
vascular irritation.
2. Wrinkles: A result of the aging process and are most common around the eyes and mouth. Use Age Defense line and Fabulous Eye Cream to support collagen and elastin production.
3. Texture: High and low points of the skin. blue points show skin indentations; the yellow areas are raised points.
4. Pores: Small openings dispersed throughout the skin. Use Gel Cleansers and Peels to minimize appearance.
5. UV Spots: Sun damage and spots on the surface and in the deep layers of the skin.
6. Skin Discolorations: Skin discolorations including shadowing under the eyes, moles, hyperpigmentation and overall tone.
7. Vascular Areas: Redness caused by broken capillaries, inflammation, or the aftermath of breakouts.
8. P-Bacteria and Oil: Porphyrins (natural bacteria on the skin) that can become impacted in the pores and can cause breakouts.Use
Clear Skin Cleanser and Clear Skin Clarifying Pads to minimize P-Bacteria and combat breakouts.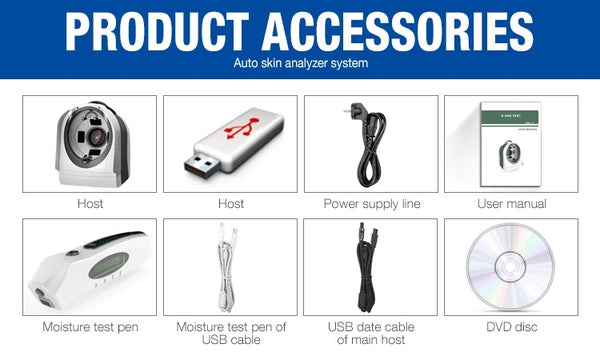 The Skin Analyzer System own three special lighting systems (RGB+UV+PL) and smart analyzer software that allows two images (before and after beauty care) can be compared side by side, which is very different visual effects to be felt.It uses RGB, UV, and PL spectral imaging technology to accurately and qualitatively analyze the number of spots, the density of spots, the number of pores, the number of wrinkles, etc., as well as the harmful effects of harmful cosmetics, ultraviolet rays, etc. on the skin. Accurately diagnosis and analysis the skin.
- Professional skin diagnosis system for salon, clinic & hospital.
- Wrinkle, sebum, pigmentation, pore analysis
- One-Click to finish all testing - FAST & EASY & SIMPLE
- With good quality camera(1800W pixel) - Clear Images
- UV light images - make pigment & sebum under skin visable
- Comparsion prived by 2 kinds of images (common image VS UV image)
- Before & After result comparsion
- 3D image is available
- Customer database, Product datebase, Purchasing guide
- Muti-langage kinds of lanuages for options