Description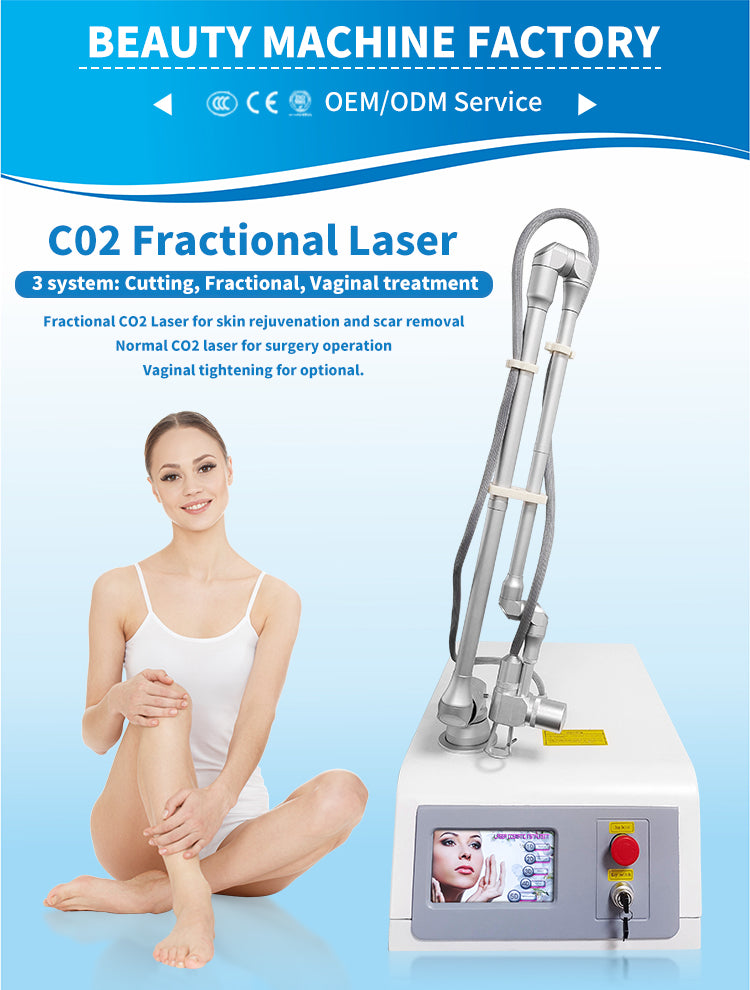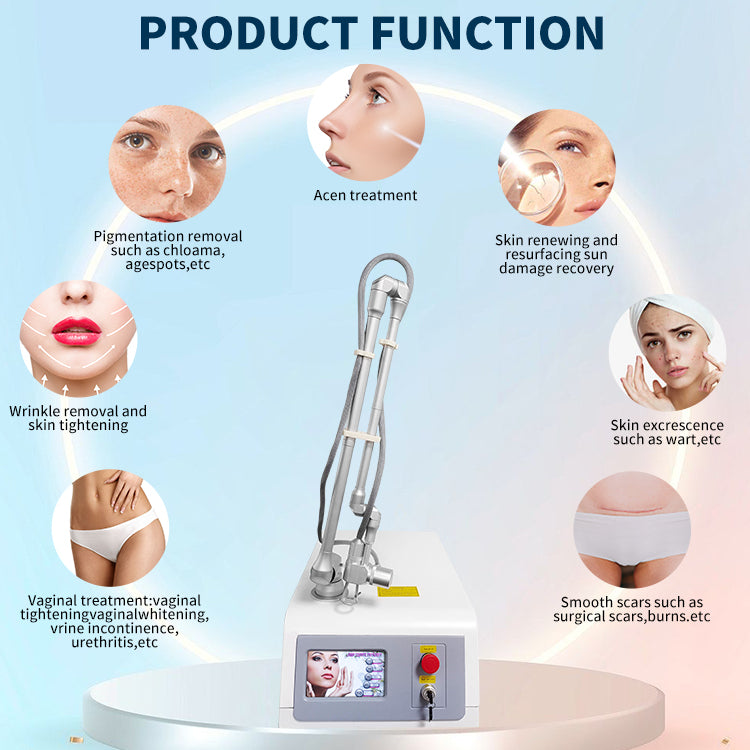 Theory of RF CO2 fractional laser 

CO2 Fractional laser is the most advanced conceptual fractional CO2 skin peeling laser system with a wavelength of 10600nm. In addition to its fine skin-peeling effect, it can effectively penetrate the laser beam into the dermis . It is the most beneficial skin recovery system and can achieve the long-term effect of collagen remodeling as well as improvement of aged skin conditions due to exposure to light. 

It can be very safely applied to various types of scars compared to the existing 100% total layer skin peeling lasers (CO2 or Er: YAG). In addition, it does not require a long period of recovery or side effects. It can remodel various types of deformed scars and skin tissue very effectively.

Vaginal tightening capsule --Theory 

It concerntrated trearmal heating of the vaginal tissue inner layers induces collagen and elastine contraction and regeneration of these proteins in the longer term. These molecular signal activate the entire wound healling process of the body's local immune system. 

The treatment outcome is the complete remodeling of the vaginal tissue in addition to re-establishment of firm "young
like" vaginal tissue embedded with string-like, thick and long collagen fibers.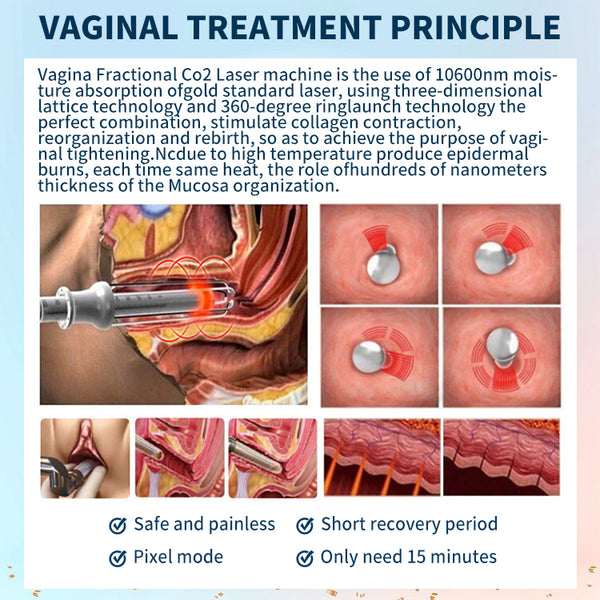 Advantage:

1. 3 in 1 system, easy and convenient for operation.
    a. Fractional CO2 Laser for skin rejuvenation and scar removal
    b.and Normal CO2 laser for surgery operation
    c. Vagnal tightening for optional.
2.The screen can be folded up and down, rotate 180° left and right .
3. Imported excellent 7 articular optical-arm, easy operated and greatly reduces the energy loss
4. Imported USA Coherent RF tube emitter,
a. even output energy, deeper penetration(8-10mm under the skin)
b. long lifetime:3-5 years
c. smaller sopt size:0.05mm at dia
5. 6 scan modes: Sequence, Random, Maximum distance A&B, Equidistance and fast shot
6. 7 scan shapes:square, rectangle, round, triangle, oval, 6-diamond shape and line.
7. 3 vaginal treatment probes for vaginal tightening, vaginal rejuvenation, vaginal whitening
8.Ultra-quiet pump used, lower noise but larger water flow; 
9.8.4 inch real LCD color touch screen, most humanized software control.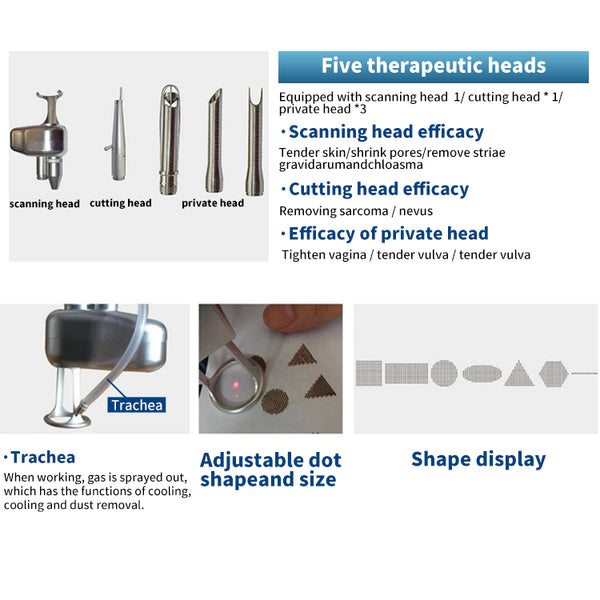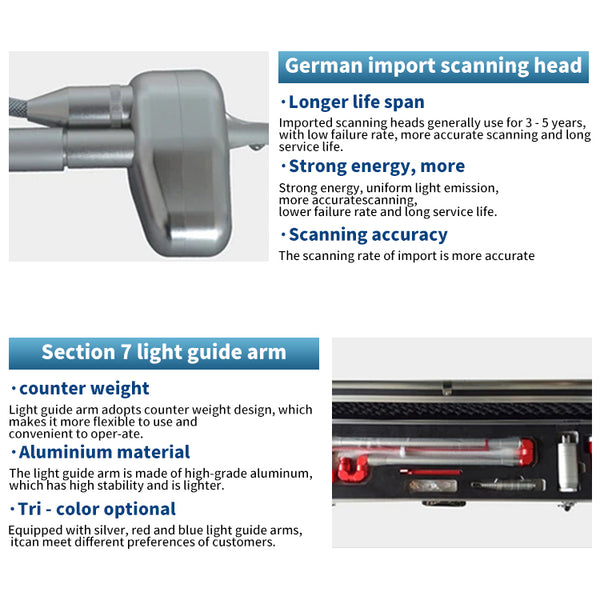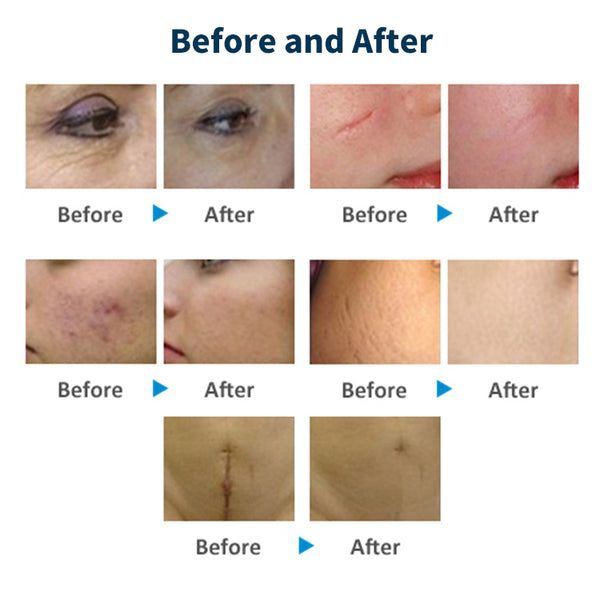 Applications:

1. Smooth scars such as surgical scars, burnt scars, acne scars, etc
2. Skin renewing and resurfacing, sun damage recovery
3. Wrinkle removal and skin tightening
4. Pigmentation removal such as intractable chloasmas, age spots, blemishes, speckle etc
5. Skin excrescence such as wart,etc
6. Acne treatment
7. Vaginal treatment: vaginal tightening, vaginal whitening, vrine incontinence.