Description
Specifications

Model Number

EMT-02

Voltage

110V-220V 50Hz/60Hz

Screen

Color touch screen

Language

Eight kinds

Power demand

100-240V /50-60Hz max:2800W

Time

1-30min

Frequency

1Hz~100Hz

Strength

1%~100%

Modes

Two modes

Handle

Two handles(three bandages)

Machine Features
1.Good result —30 minutes treatment= 20000 workouts, increase 16% muscle and reduce
2.1% fat after about 2-4 courses
3.Non-invasive, no side effects and painless
4.2 Magnetic applicators—break down fat deposits and increase muscular tone and strength
5.Targeting 5 body parts——abdomen, arms, hips, hamstring, thighs
Slim Beauty Machine Principle
The slim beauty machine use focused electromagnetic field with safe intensity to pass through the body and interact with motor neurons. It's designed for continuously stimulating and contracting the muscle, which is ideal for deeply reshaping the internal structure of the muscle. Having 2(two) applicators with higher intensity for non-invasive body contouring, so it not only achieves effect on burning fat, but also building muscle at the same time, which is a key to keep a toned and healthy physique.
2 modes of training
1. High strength range
2. Strengthen muscles
3. Improve muscle strength
4. Strengthen muscles and reduce fat
5. Strengthen muscles and improve muscle strength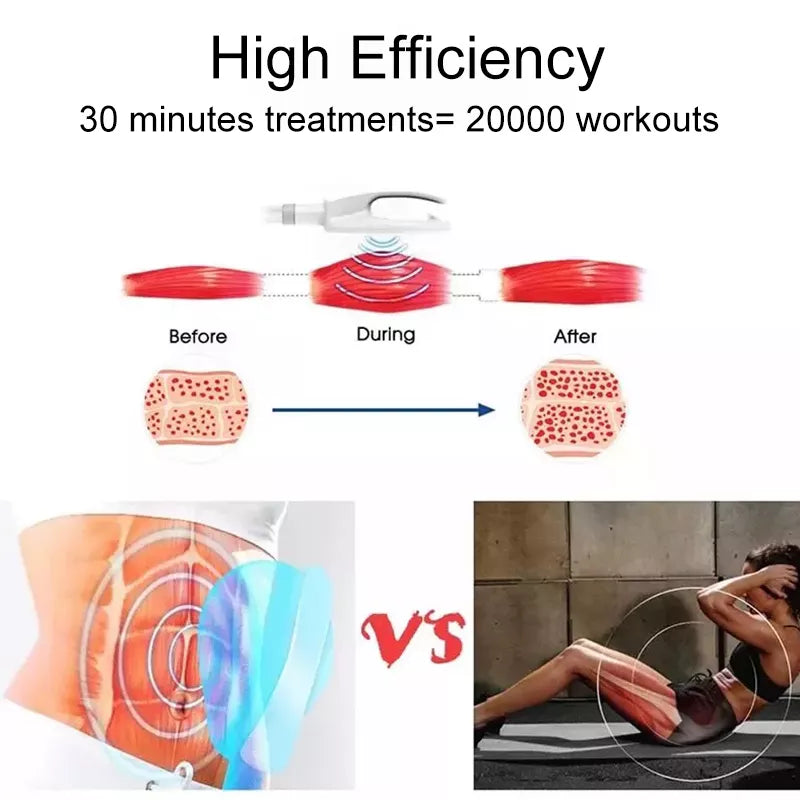 Advantages:
1. This is the safe and effective technology. It induces short bursts of powerful muscle contractions in the treatment area. These supramaximal muscle contractions are not achievable through voluntary contractions. When muscle tissue is exposed to these contractions, it must adapt to such extreme and stressful conditions. The tissue does so by remodeling its inner structure, and in doing so, builds muscle and burns fat. This leads to increased muscle density, decreased volume, better definition, and improved tone.
2. Quick and effective. Studies show that can decrease fat by 30% while also increasing abdominal muscle mass by 25%. EMSlim is an attractive treatment option for those who have a BMI of less than 25 and may not be ideal candidates for other fat reduction treatments. These painless sessions take approximately 30 minutes and can be added or stacked onto other treatments such as Cool Slimming to give patients the tight, firm body they want.
3. Abdomen and butts. EMSlim is particularly effective on stubborn fat deposits in the abdomen and buttocks which are often the areas most frustrating for those seeking to improve their body shape through exercise and diet alone.