Description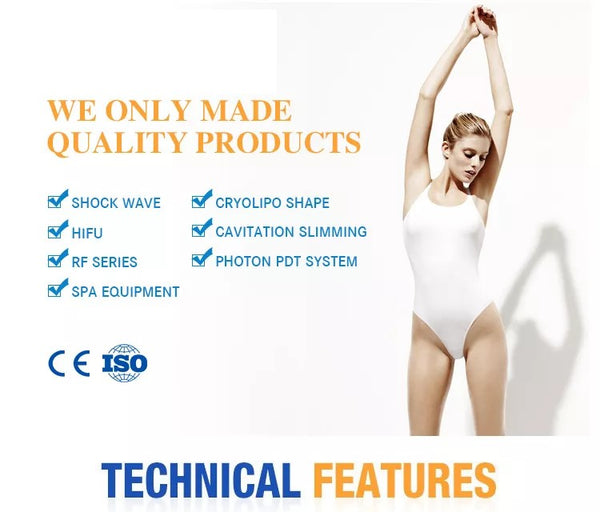 Working Theory

Triglyceride in fats will be converted into solid in particular low temperature. It uses advanced cooling technology to selectively target fat bulges and eliminate fat cells through a gradual process that does not harm the surrounding tissues, reduce unwanted fat, when fat cells are exposed to precise cooling, they trigger a process of natural removal that gradually reduces the thickness of the fat layer. And the fat cells in the treated area are gently eliminated through the body's normal metabolism process, to eliminate unwanted fat.
Technology Background

The cooling procedure using cryolipolysis is fundamentally different from other non-or minimally-invasive modalities, and it was approved as the most effective way to fat reduction.
This revolutionary new fat loss method,which is approved as an important technology progress in fat reduction since it is put into use. For those people who are on diet, do regular exercise but still remove local fat, cryolipolysis is definitely a great gift. For fat intensive parts and less parts, such as love handles (flanks), and back fat.(loose fat above the hip on both sides of waist), belly and back fat, cryolipolysis can provide stunning results.
| | |
| --- | --- |
| Input voltage | AC110V/220V 50-60Hz |
| Power consumption | <500w |
| Screen | 10 inch color touch screen |
| Cooling device output temperature | -10-5°C |
| Cooling device output pressure | 0-100KPa |
| Cooling liquid | pure water |
| Default time | 0-120min |
| Fuse size | F2AL250V |
| Ambient temperature | 5°C-+40°C |
| Relative humidity | ≤80% |
| Size of wooden package | 60x57x138cm |
| Atmospheric pressure | 80KPa-106KPa |
| G.W | 100KG |
| Warranty time | one year |
| Delivery time | 7-14 days |
| power | Less than 450VA |