Description
cells Lymph Drainage Pressotherapy for Eye and Body slimming Massage Equipment
24 independent air cells in the pants (the cells partly cover one each other) 24 independent air cells in
the jacket (the cells partly cover one each other)
The air cells are made of elastic material for the perfect adjustment to the massaged body part
Can operate up to 3 air cells independently at the same time (inflate and deflate at the same moment)
Variability of massages – up to 4 different massage programs
Complete lymphatic drainage – from feet to arms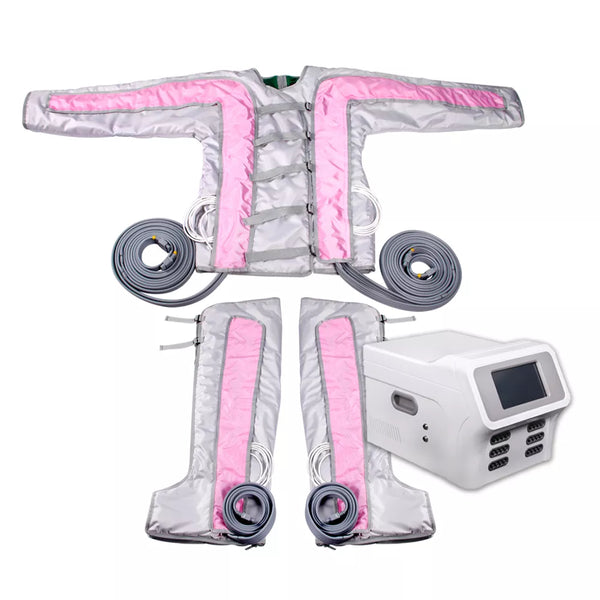 Applications
   Pressotherapy can be used in conjunction with seaweed wraps to detoxify, firm, tone, improve circulation and increase lymphatic drainage. A great, relaxing alternative to liposuction, which can be coupled with vacuomobilization treatments for exceptional results.
1.Blood circulation improvement, blood-vascular system function normalization;
2.Lymphatic system function normalization, toxins excitation, organism cleansing;
3.Deliverance from limb edemas;
4.Weight reduction, body shaping, cellulite treatment;
5.Skin elasticity recreation.
6.Restorative effect on muscles, muscle tone improvement;
7.Fatigue overcome, relaxation – the effect of our system use is comparable with a session of relaxing massage;

The detials of the chlothes:

Parts introduction:
Jacket:24 Cells provide a peristaltic and sequential pressure gradient lymphdrainage to massage the upper part of body, arms and back,also soothes sore muscles for ultimate 
relaxation.
Trousers: treat the entire lower body from the feet to the abdomen. These medical grade pants have 24 fully overlapping compression cells, and provide extremely effective lymphatic drainage.Highly recommended for salon use.
Eyes and massage
There 3 modes 7 functions of eyes massage for your choose , you can Choose the function what you
think is the best for you :
Mode 1: air pressure &heating;air pressure & vibration,Heating & vibration mode 30 seconds automatically change.
Mode 2 :air pressure &heating     Mode 3:air pressure & vibration
Mode 4 :Heating &vibration          Mode 5:air pressure
Mode 6:heating                              Mode 7:vibration
The parameter of the pressotherapy:
| | |
| --- | --- |
| Output Voltage | AC110V±10%/60Hz AC220V±10%/50Hz |
| Max Power Consumption | 110W |
| Air Pressure | 20~360 MMHG |
| Mode | 4 modes |
| Display: | LCD Screen |
| Air Pump Max Intensity | 48KPa |
| Function model | 5 models including eyes massage function |
| Eyes massage | air pressure &heating; air pressure & vibrate and Heating & vibrate |
| Max.treatment time | 60 minutes |
| Machine packaging size | 54*40*40cm |
| Pants packaging size | 40*30*35cm |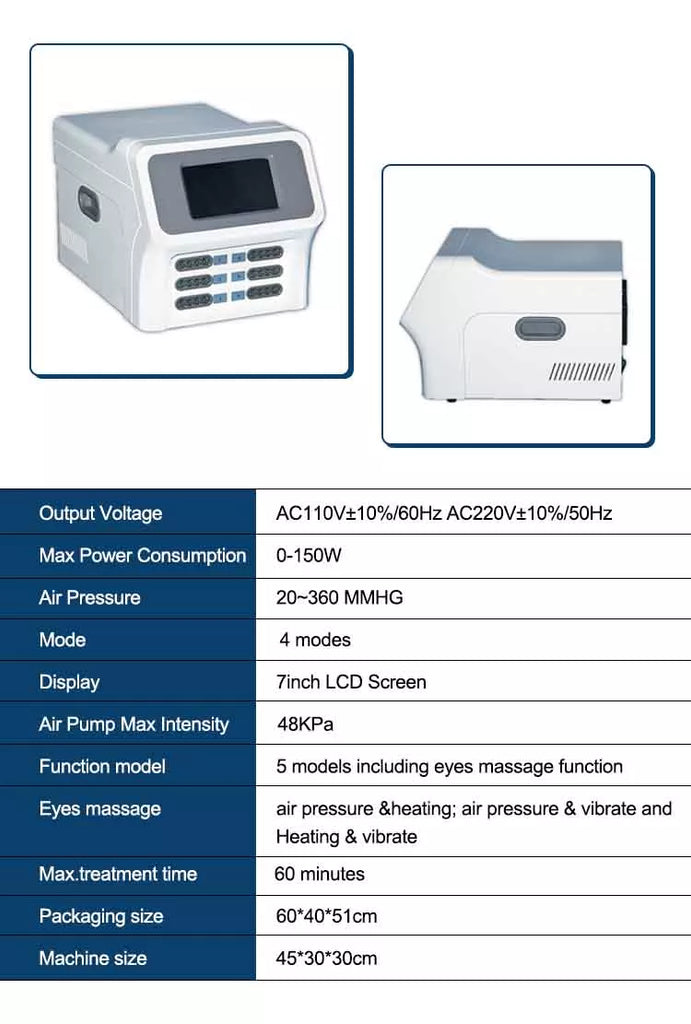 Pressotherapy working theory:
Infrared Pressotherapy is a compression system, which operates using inflating pumps. The device has 24 separate chambers, which are positioned around the limbs. These focus on moving the venous and lymph flow, starting from the ankles and moving to the upper thighs. Designed to increase blood circulation and lymph flow, Infrared Pressotherapy enhances extra-cellular fluid clearance, reduces bloating, swelling and oedema, alleviates leg fatigue and improves oxygen flow through the whole body.
It is used by aesthetic professionals in salons, clinics, and spas. It markedly helps to treat cellulite and with body forming. It is also a necessary tool in studios where cavitation, or RF treatments are operated. Operation at pressures from 20 to360mmHg, and offers a wide range of different massage cycles.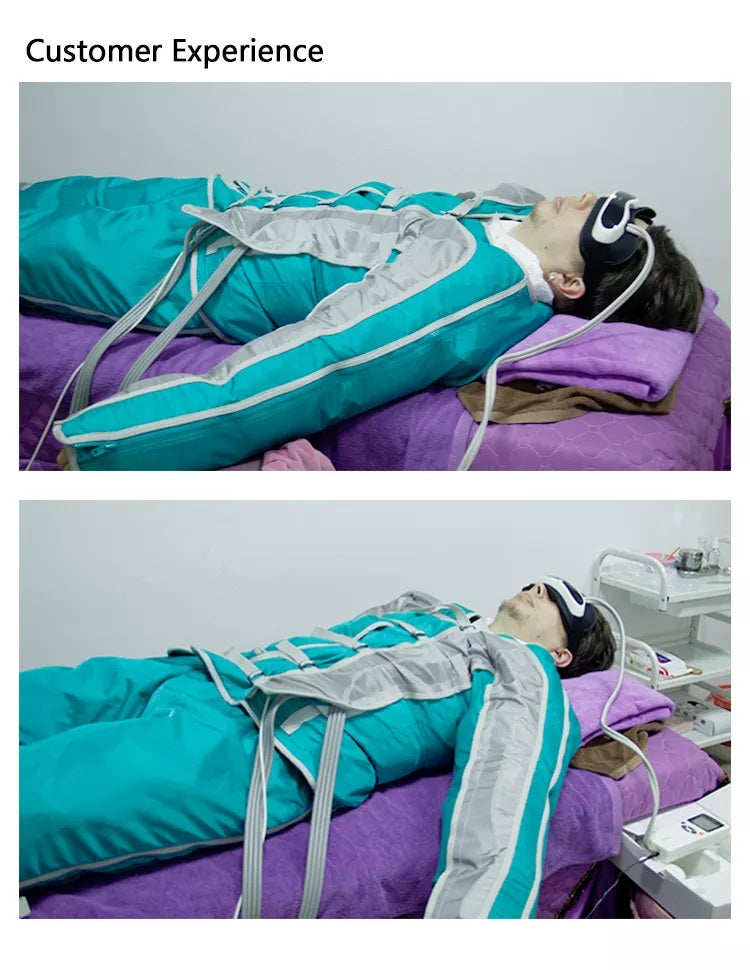 Function:
Pressotherapy works on fat tissue and dissolve fat cells with heat radiation. Regular Inflation,deflation and variational air pressure can accelerate fat burning.
1.Fat elimination:Pressotherapy energy can speed up blood circulation and promote metabolism.
2.Lymph Drainage:Pressothreapy speed up the blood circulation and metabolism which enable dissolved fat
entering into the blood and lymph. Air chamber works more regularly and directively through air pressure,
promoting lymphatic system reflux and draining the toxin out of body...
3.Others:Inflammation diminishing, analgesia, promote regeneration of tissue and soften scar.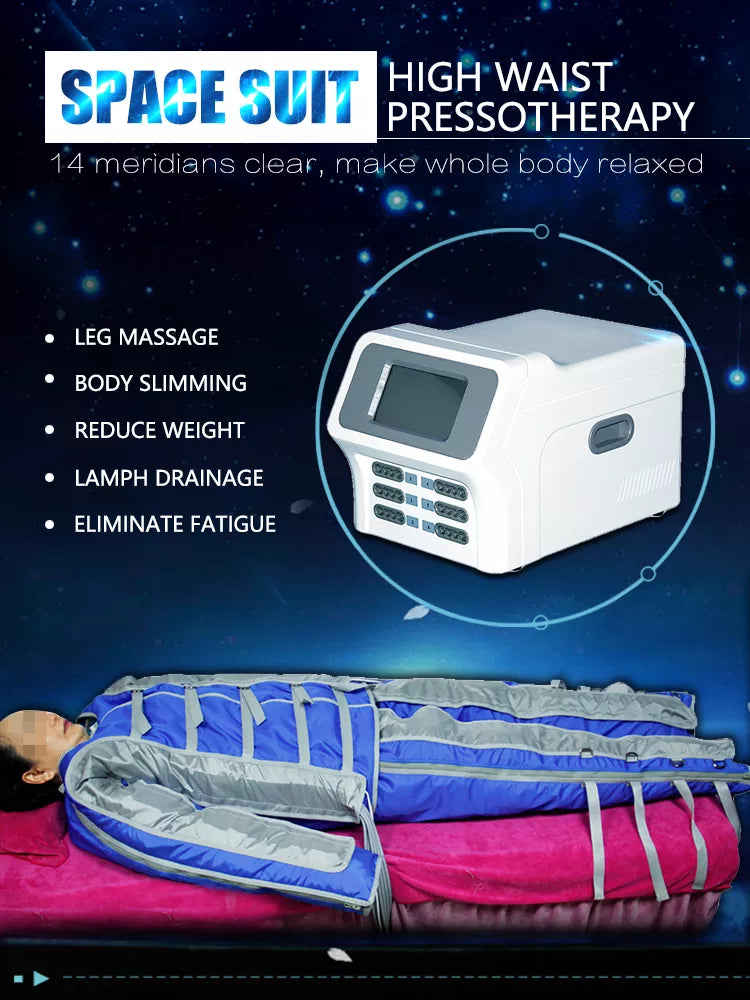 Advantages
Easy to change air bags
   1) 24 air bags independent and easy to change.
   2) FIR function.
Easy to use
  1)Connectors allow easy applicator swapping .Just plug in and treat
  2) 5 inch color touch screen and easy to operate.
Easy to handle
  1) Full length,high quality zipper for quick and easy dressing/undressing,changing size.
  2) Automatic sleeves emptying after treatment for comfortable handing.
Easy to clean
 1) Both inside and outside water proof material
 2) Disposable trousers and jacket
Powerful air pump
 1)The air pump imported from Taiwan and the air pressure from 20~360mmGH and keep the
machine can work well.
Special noise reduction device
  1) Special noise reduction device to keep the noise less than 50dB.
Eye massage
  1) 5 programs with special eyes massage mode ( including three programs,heat,vibration,air massage)
  2) Best original factory price no more charges.
  3) OEM and ODM service.
  4) CE, RoHS Approved.
The accessory of the pressotherapy: