Introducing magnetic field pulses into the body can increase the charge in cells, speed up cell metabolism, reduce inflammation, promote wound healing, and quickly repair deep tissues such as bones, fascia, ligaments, and muscles


Clinical research

For many years, pulsed electromagnetic fields have been widely recognized by doctors and experts in the field of professional rehabilitation in countries such as the United States and Europe. This treatment not only has no side effects, but also has a healing rate that is 2-3 times higher than other treatments.

Treatment suggestion
5-20 minutes each time, 3-5 times as a course of treatment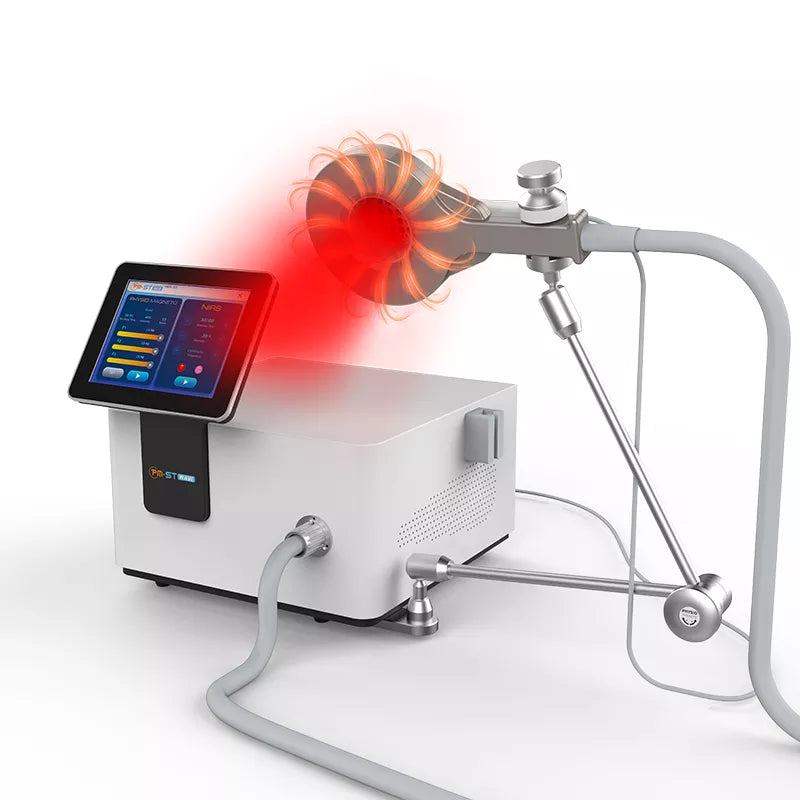 Technical principle
Near-infrared light can cause the reorganization of the collagen structure in the subcutaneous tissue, causing the resonance and friction between the molecules to form a thermal reaction, which increases the temperature of the deep subcutaneous layer, expands the microvessels, accelerates blood circulation, promotes cell synthesis, and accelerates the healing speed.
Clinical research

Near-infrared light can effectively relieve pain up to 96%, and this treatment does not cause any harm, and also allows wounds to heal faster

Treatment suggestion



10-20 minutes each time, 3-5 times as a course of treatment
Advantages in PM-ST NEO
1. Combine magneto therapy and infrared therapy
More effective in the treatment and shorten the course. They can work together or seperately.

2. Combine shallow and deeper penetration in magneto therapy
* MT mode: 1-100Hz for muscle stimulation and contraction
* ST mode: 1000-3000Hz for rehabilitation and regeneration of bones, tendons, and ligaments.
* They can be used for musculoskeletal disorders, sport injuries, chronic inflammation.

3. Perfect combination with shockwave therapy
Magneto therapy, infrared therapy and shockwave therapy can be standalone therapy. Also, when the PM-ST NEO combines with shockwave therapy, the result will be better.

4. Smart and intuitive system
* 10.4-inch large screen

* Preset parameters for 10 body parts
* Clear indication on the conditions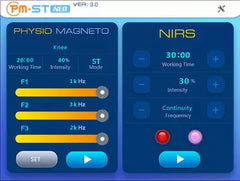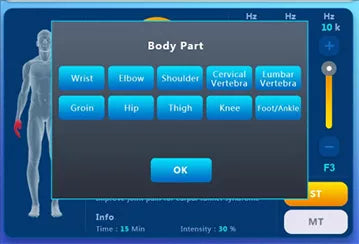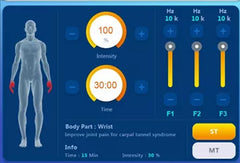 5. Hands-free treatment
After two applicators are positioned with the flexible holding arm, the therapy can run without the need for the therapist's intervention. There will be no labor-consumbing work.
6.Pain-free treatment
Magneto and infrared therapy can provide clients' non-pain, non-invasive but effective treatment. Clients are more willing to finish the whole sessions in this therapy.

7.Touch-free treatment
The magnetic pulse can be transferred above the clothes. Customers do not need to take off clothes when taking this therapy. It helps to avoid embarrassment.


8.No consumable
In PM-ST NEO, there is no consumable. What we need to do is to maintain the water-cooled system. And the maintenance is also easy. Just need to change the water every two weeks.

9.Non-stop running
PM-ST NEO adopts water-cooled system. It can work continuously for 8 hours without energy loss. Even though there are a lot bookings, do not need to worry about customers' complaints for long waiting.