The Cryo EMS RF system uniquely combines Cryo technology and EMS (electrical muscle
stimulation) and RF (radio frequency weight loss). Each of the 4 cooling plates integrates cold treatment, muscle stimulation and radio frequency. Cryotherapy and EMS RF run parallel and simultaneously in each plate and handpiece. The Cryo EMS device is not only unique in function and effect, but also in terms of quality and design.

The time and intensities of the cold temperature,EMS and RF can be set flexibly on the ergonomic 10.4" touchscreen. After the cooling plates are placed on the chosen body areas and the parameters selected, the device starts and safely runs passive Cryo EMS RF body sculpting protocols without constant attention being required. The user can relax and the operator is free to perform other applications at the same time, including active Cryo EMS RF using the handpieces for body treatments.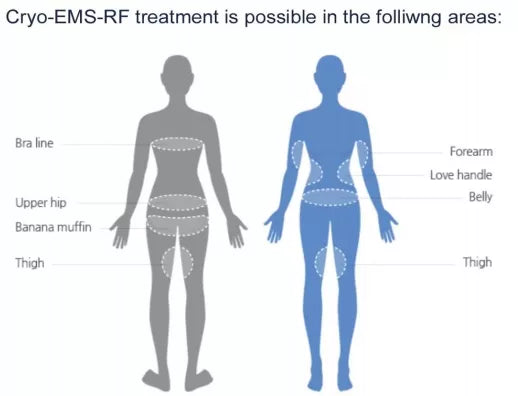 Operation
• Fat reduction • Firming and lifting • Tissue stimulation and drainage • Anti-aging and cleaning • Pain-free and non-invasive •Gentle and kind to the skin • Simple and intuitive operation • User protocols PIN protected for safety
Cryo
• Subcutaneous Fat Cells Freeze • Fat Cells Drain When Using Low Temperatures • White Fat Cells are Converted Into Brown Cells •No Suction Cups Required • Works with Temperatures Between cooling -11°C to 5°C,heating 37°C to 45°C

EMS
• Muscles are Electrically Stimulated to Contract • Blood Circulation is Boosted • Lymph Flow Increases • Beneficial Muscle Compression is Induced • Muscle Energy Consumption is Increased

RF (radio frequency)
•RF treatment is mainly characterized by the deep tissue heating cellulite. • The continuous deep heating results in reduced adipose cells and improvement of body contouring.