Description
Body Shape Cavitation RF Skin Tightening Vacuum Roller shape Body Slimming Machine
Display screen:8 inch color screen

Display screen on handpiece 1: 2.4″

Display screen on handpiece 2: 1.9″

1) Absolute value: 80kPa -10kPa (60.8cmHg - 7.6cmHg)

2) Relative value: 20kPa -90kPa (15.2cmHg – 68.4cmHg)
Advantages
(1) Convenient 10-treatment protocol.
(2) Ideal slimming device for circumference reduction.
(3) Visible results in as few as 1 treatment session.
(4) Treat an average size abdomen, buttocks or thighs in 20 minutes.
(5) Offers treatment as comfortable as human massage with specially designed vacuum and roller.
(6) Delivers optimal results for treating both the deeper tissue and skin's surface.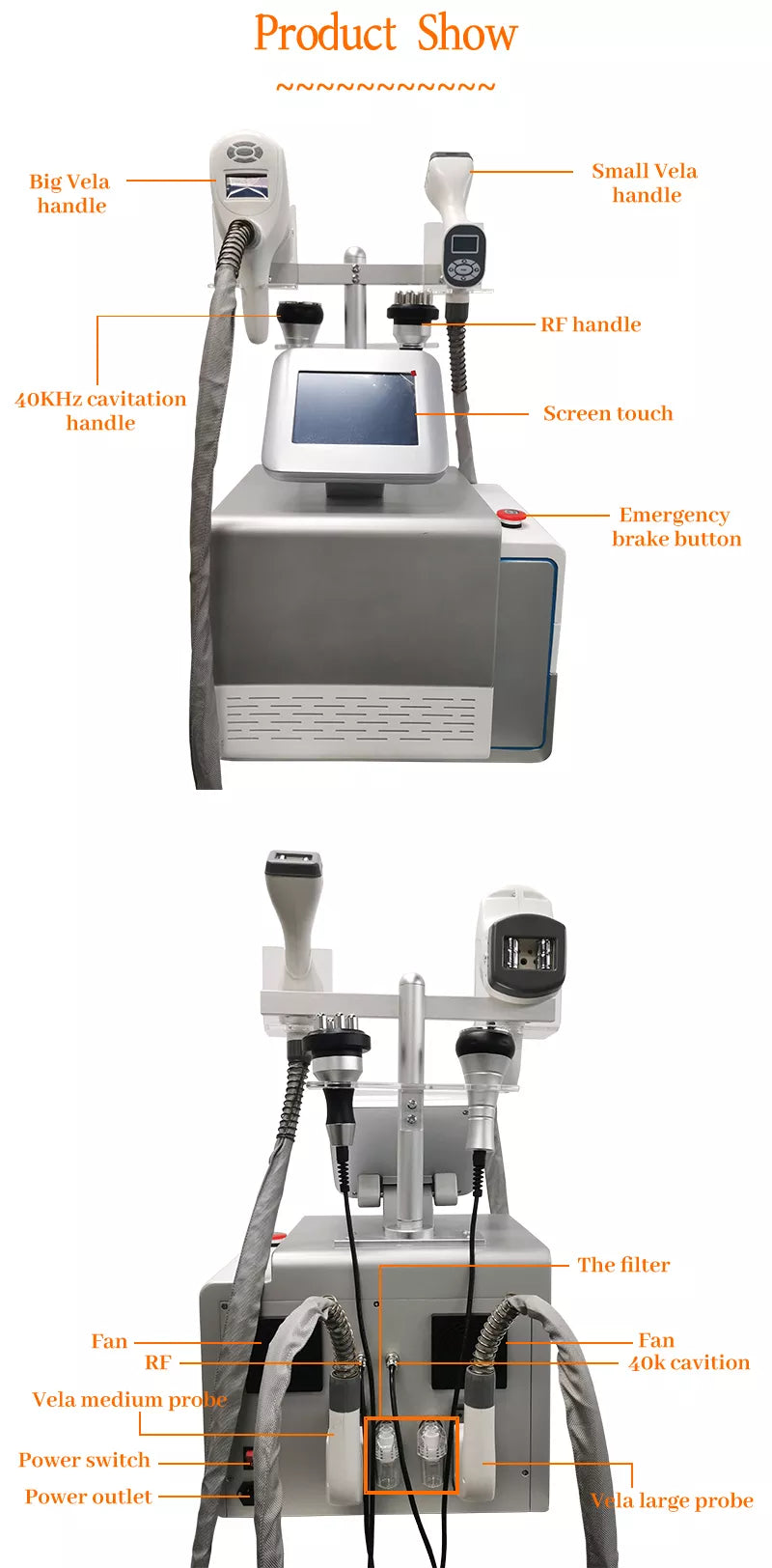 Introduction
(1) 40K Cavitation ultrasonic

40K Strong sound waves explosion head effectively promote the organization fat metabolism, repel orange peel fat, firming skin,enhancing skin elasticity, etc. And the effect is long lasting. The 40 K sound waves can make a implosion of liquid as the expansion and compression of the wave make the inside of the liquid formed in many small space and what inside this kind of space are gas and steam. During the compression cycle, the 40K sound waves have positive pressure effect on the liquid molecules, while during the expansion cycle the 40K sound waves have positive pressure effect on the liquid molecules.


(2) Vacuum & Roller

- Auto-roll applitor pull the target area skin to enhance vacuum suction effect.
- Specialized for leg, and body.
- Powerful vacuum performance and dynamic pulse techniques.
- Power lifting and liposlim care.


(3) Ultrasonic Cavitation

- Powerful cavitation effect from dual generators.
- Effective treatment by 4 types of pulse mode.
- Guaranteed treatment results.
- Operatingsignal light fuction.


(4) Multi-Polar RF, and LED

- Specialized dynamic vibration function.
- Easy to use technical motions.
- Red LED technology.
- Updated Multi-Polar RF technology.
- Stable multi-polar RF system (5MHz).