Description
| | |
| --- | --- |
| Vacuum Pressure | 85Kpa |
| RF Frequency | 3MHz |
| Voltage | 110V |
Wet Microdermabrasion, Hydrodermabrason, and Radiofrequency work in synergy to make skin clearer and appear younger- all compact into one durable, high-quality equipment. Powerful and effective suction work to properly extract and cleanse impurities, while radiofrequency therapy erases fine lines, wrinkles, and other signs of aging.

This unique Hydrodermabrasion facial machine includes two solution bottles and one waste jar to make life easier for all estheticians. You can store two different solutions in the machine at a time to personalize protocols per client, and save time spent switching the contents of one jar!

There are no disposables with the Hydrodermabrasion facial machine, so there is no need to regularly buy tips! Both the Hydro and Microdermabrasion tips are incredibly easy to disinfect between clients, and the entire equipment is very easy to maintain. The smart filter system uses one permanent filter that can be cleaned as needed, unlike those of competitors, which require you to constantly buy new filters to use per treatment.
The PureHydro features:
Hydrodermabrasion with

Hydro Tips

Microdermabrasion with Diamond Tips

Radiofrequency Therapy
What is Hydrodermabrasion?

Hydrodermabrasion is the latest innovation in skincare as an alternative to microdermabrasion without the use of crystals or diamond tips to abrade the skin. Instead, it combines the natural benefits of oxygen and water to shoot a pressurized stream of the solution onto the skin. The high velocity of this procedure effectively removes dead skin cells at first contact, exfoliating and soothing the skin at the same time. Hydrodermabrasion hydrates, cleans, and revitalizes skin while supporting healthy blood circulation.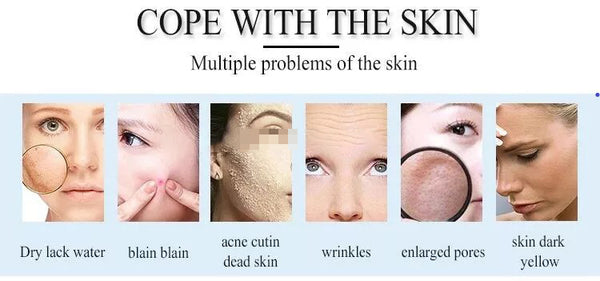 Benefits of Hydrodermabrasion:
Benefits sensitive skin that cannot undergo other forms of microdermabrasion

Decreases visibility of scarring and dark shadows

Improves blood circulation

Supports collagen and elastin production

Tightens skin

Leaves skin smooth and glowing

Uses all-natural elements and minerals
What is Wet Microdermabrasion?
Wet Microdermabrasion is synonymous with beautiful skin. It is an aesthetic treatment after which our skin improves considerably. This treatment consists of sweeping away the outer layer of our skin through a system based on diamond tips, and is different than traditional dry microdermabrasion because it allows for the infusion of serums into the skin. A personalized solution of your choice is gently infused into the skin while microdermabrasion is performed. This treatment is comparable to hydrodermabrasion but uses diamond tips rather than plastic or silicone ones for extra exfoliating power. 
In this way, the imperfections are eliminated, as well as the small wrinkles or spots that have appeared during the last months. Likewise, the consistency of our skin improves. It will have a more pink and clear tone and a much softer touch.

Benefits of Wet Microdermabrasion:
Stimulates blood circulation

Promotes the production of collagen

Infuses active ingredients from serums into skin

Cleans and removes dead skin cells

Decreases wrinkles and acne marks

Reduces dilated and clogged pores

Oxygenates and regenerates skin cells

Tightens skin

Leaves skin smooth and glowing
What is Radiofrequency Therapy?
Radiofrequency therapy uses currents similar to the ones found naturally in our body's electrical circuits to cause tissues to contract, which in turn safely tighten skin and increase its contour. When the body creates resistance to the currents, heat is generated, which strengthens and refines the underlying tissues. This non-invasive treatment includes absolutely no downtime, pain, or discomfort. It works wonders at reducing cellulite all over the body and erasing the signs of aging that have accumulated over the years.

Benefits of Radiofrequency Therapy:
Strengthens collagen proteins and encourages the production of new fibers

Tightens and firms facial and body skin

Decreases depth of wrinkles, especially on the forehead and mouth

Extremely effective at combating mouth and forehead wrinkles

Smoothes out cellulite bulges

Encourages elastin production

A great precursor to cavitation treatments due to its warming effects

Natural and safe for all kinds of skin

Reaches depths of the skin that many other skin tightening treatments cannot